Today, we've compiled a list of the best hybrid hard drive laptops for those who want their software and Windows to run smoothly. Because of their portability, laptops are becoming more popular, yet they do tasks slower than desktops. We wrote this article to assist you in resolving this problem without spending a lot of money.
Laptop manufacturing is a lucrative and profitable business for manufacturers, and they compete fiercely in this field. SSD laptops are still expensive despite a lot of advancement. Hybrid storage is the best option for getting high-speed and large storage. However, they are more expensive than traditional HDDs, but they are significantly less expensive when compared to the latest SSD technology.
In this article, we'll discuss the best laptops with hybrid hard drives and solid-state drives (SSHDs). Why do we need hybrid storage on our computers, you might wonder? The main advantage of purchasing a laptop with hybrid storage is the cost-effectiveness of the purchase. If you already have it, there's no need to spend money on high-capacity SSDs because you've already chosen the best speed and storage on a low-budget option.
The type of hard disk that a laptop has nowadays is one of the most significant aspects. Traditional spinning hard drives (HDD) and solid-state drives are the two main types (SSD). Both have advantages because they each have distinct characteristics that make them better at specific tasks. Hybrid hard drives offer the best of both worlds, with SSDs for fast boot times and HDDs for big data storage.
Before choosing the model of laptop to buy, think about how you will use it. Do you require a lightweight item that you can transport? Is speed more important than storage space? These questions will assist you in deciding whether an HDD or SSD is the better option for you.
The Dell Inspiron 7567
A new NVIDIA GTX 1050 (Ti) GPU, an Intel Core i7 processor, and 8GB or 16GB of RAM. These are the absolute minimum requirements for a laptop to be classified as a gaming laptop. Furthermore, a red and black color scheme has nearly become a requirement these days.
The new Dell Inspiron 7567 Gaming is capable of all of this and more. Don't get me wrong: it's still a budget gaming laptop with an NVIDIA GTX 1050 Ti, but it has a battery life that rivals some regular laptops.
On paper, the specs are spot-on for the recently released HP Omen and similarly powered devices from Asus and MSI. However, given that this is a Dell PC, I was hoping for a lot more delicacy beneath the busy exterior.
The Dell Inspiron 7567 gaming reintroduces the entire red and black theme it had previously but in a fresh and enhanced form. The laptop's curves and sharp edges make for a strange yet intriguing combination. It still has a matte-finish plastic body, but it's unlike anything else I've seen from Dell's Inspiron laptop line.
On the other hand, it's not angular or RGB-heavy enough to be classified as Alienware. Its curved sides and pointy front and back put it halfway between Dell's Inspiron and Alienware lines, which could be the goal. It's not as comfortable to handle as a regular laptop (horizontally), but that's part of what makes the design unique, and that counts to gamers.
The red-on-black insignia is still there on the lid, along with red exhaust grills. This time, there are only two exhausts, both of which are in the back. Dell has also added a new mesh-like design to the exhausts, which is carried forward with a slightly revised pattern at the front.
The display hinge, which takes cues from the Lenovo Y700 and utilizes a single hinge rather than the dual side hinge, is the most significant difference. While this new hinge gives the display a floating appearance, it is not as strong as we had hoped.
The display has some flex, and because the lid supporting the display is not particularly thick, it may be damaged. I should also remark that the flex issue on the keyboard has been resolved this time by Dell.
Like last year, Dell has included a maintenance hatch on the laptop, which is very appreciated. It is simple to open by removing a single screw. The RAM, Storage, Wi-Fi module, CMOS battery, and even the 74Wh battery are all accessible once the cover is removed. The good news is that you'll still get a limited warranty if you upgrade your memory.
Asus X555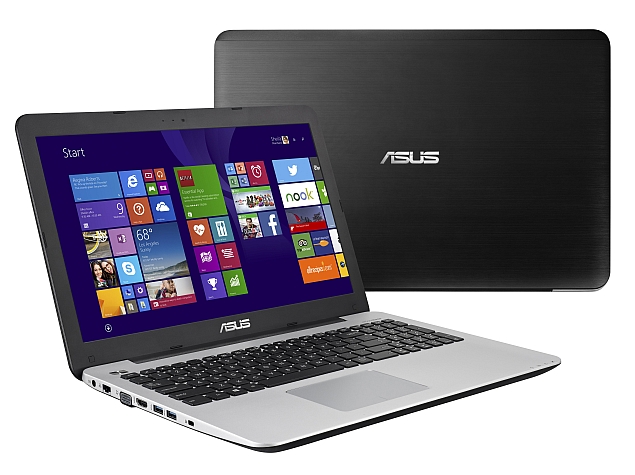 If you want to spend a lot of money on a laptop, there's a good possibility you'll end up with too many choices in your hands (pun intended). When we think about Windows options in the mid-to-high price range, we immediately think of HP, Dell, and Lenovo.
The Asus X555 has all of the characteristics of a gaming laptop, but it's not one. Body-wise, the notebook is a beast, and we can even call it a powerhouse to some level. Plastic-body finishes are never the best choice for a high-end laptop, and the X555 would have benefited greatly from some of the gloss we saw on the Zenbook UX305 earlier this year.
With a weight of 2.3 kg and a thickness of 2.58 cm, the X555 is one of the heaviest traditional notebooks available in this price range, and it will never be simple to carry in your bag. The laptop's front panel is glossy, making it highly reflective and susceptible to scratches. When you compare the X555 to the HP Pavilion 15, you'll notice that the two massive laptops are very comparable.
All communication ports, including the power outlet, are located on either side of the notebook. It's hardly the most elegant notebook we've seen this year, and for what it's worth, we were expecting a lot more than simply a laptop.
Asus has ensured that this X555 model has access to some of the greatest hardware available in the country. It has a 2.2GHz Intel Core i5 processor, 8GB of RAM, and 1TB of storage out of the box. Two USB 3.0 ports, one USB 2.0 port, Ethernet, and VGA for external monitor support are among the many connectivity ports available.
An HD camera is located on the front of the device to support video calls via Skype. Finally, a 2.37 Ampere battery should be sufficient to ensure that the X555 has a long usage life on a single charge.
For its 15.6-inch X555 laptop, Asus went with a basic resolution of 1366x768p, which is a shame considering the pricing. It's difficult to comprehend the company's decision to go with standard display power rather than the basic minimum of 1080p resolution, which HP achieves with its own bulky-yet-powerful Pavilion 15 notebook.
But all that hardware had to be put to use somewhere, and thankfully, that's one aspect of the X555 that manages to rank among the finest in its class. The Core i5 series is positioned between the entry-level Core i5 and the high-end Core i7, and with adequate memory support, even the Core i5 can compete with the best.
It's disappointing to discover that Asus included an Nvidia GeForce 920M graphics card with 2GB of RAM on the X555, which falls short due to the lack of an HD display. With the 2.5-inch SATA form drive spinning at 5400 RPM, there's plenty (or terabyte) of storage to go around. We didn't get the impression that the X555 was going insane with all that power, and the results speak for themselves.
Lenovo IdeaPad S340
Lenovo is the next big electrical brand you're probably familiar with. The company makes ultra-thin and comfy laptops that are easy to transport. The Lenovo IdeaPad S240 is the best mid-range notebook with a hybrid drive.
The IdeaPad S340 is made of polycarbonate with carbon fiber threads woven throughout. You wouldn't know by looking at the device, which is a bummer because we wouldn't expect quality carbon fiber at this price. In theory, it strengthens the plastic, yet the S340's lid has an attractive aluminum finish.
Even though this laptop isn't exceptionally thin or light, Lenovo nonetheless refers to it as "ultrathin." We wouldn't say this meets that description at 17.9mm thick. The S340 appears to be slim due to its design, but this is just a trick of the eye.
The 14-inch model weighs 1.55kg, while the 15-inch model weighs 1.8kg. Again, these aren't headline-grabbing numbers, but this is a low-cost laptop. The TrueBlock privacy shutter is a unique design feature that allows you to physically cover the webcam if necessary. It's good to see that this has trickled down from the ThinkPad line. The slider, on the other hand, is a little tricky to use, and its presence isn't always clear.
We looked at the Sand Pink version, but the S340 is also available in Onyx Black, Abyss Blue, and Platinum Grey. We enjoy the springy and snappy (optionally illuminated) keyboard, which has enough travel to satisfy.
However, there are a few keys that are excessively small, such as the up and down arrows, which take up the space of one conventional key. At the very least, there are several function keys at the top that allow you to quickly modify things like the screen brightness. The 15in the model contains a 10-key numeric keypad on the side in case it swings it for you.
The trackpad isn't particularly huge, but it does the job. It can be a touch unresponsive at times, but this isn't a major issue, and it performs admirably with good palm rejection. To register a click, some pressure is required, which is unsurprising at this price.
The bezels on the display are 20% smaller than before, and you may select between a 14- or 15.6-inch display. They'll be available in Full HD with touch and IPS as options.
LG Gram 17
When LG originally unveiled its one-of-a-kind ultraportable, it had little to recommend outside an outstanding screen and a weight that seemed to defy physics. However, the lackluster 2019 model has given way to a brand-new model for 2021. The slim frame and beautiful QHD screen are still there, but LG has focused on the rest of the user experience. This means a better keyboard and touchpad, as well as a more attractive laptop with Intel's latest technology and long battery life.
The Gram 17's dimensions are 0.7 by 15 by 10.2 inches (HWD), which is comparable to other non-gaming big-screen notebooks. The expensive and ultra-powerful Dell XPS 17 measures 0.77 by 14.7 by 9.8 inches at the top of the price spectrum. The 16-inch Apple MacBook Pro, which is likewise luxurious and powerful, measures 0.64 by 14.1 by 9.7 inches, while the budget-friendly Dell Inspiron 17 3000 measures 0.98 by 16.4 by 11 inches.
The Gram isn't very heavy, but it's also not light. LG claims the phone has passed MIL-STD 810G torture tests that include shock, vibration, rain, dust, and temperature and humidity extremes. The certification provides some comfort that LG didn't save on quality to keep the weight below three pounds.
However, the Gram 17 has a solid feel to it. There's some flex in the center of the keyboard deck, but not as much as bulkier competitors like the TUF Gaming A17.
Along the tapered sides of the Gram 17, there are numerous input and output choices. Two USB 3.2 Type-A ports, a headphone jack, and two USB-C ports with Thunderbolt 4 capability are included. That's quite a several USB ports, but it doesn't end there. A microSD card reader and a full-size HDMI port are also included by LG. One of the two USB-C connectors is used to connect the external charger.
The keyboard should have full-size keys and a specialized numeric keypad, as is customary for large-screen laptops; after all, there's enough of place on the big base to accommodate them. While some laptops, such as the XPS 17 and MacBook Pro 16, have lately abandoned this practice, the Gram 17 does not. The redesigned keyboard features a comfortable travel distance and solid key switches. The white labels have a wide, bold text that contrasts nicely with the black keys.
A fingerprint sensor is incorporated into the power button, which is placed in the upper right corner of the keyboard. It works with Windows Hello to allow you to log into your Windows account without having to type a password or PIN. In brightly lit environments, the 720p webcam produces acceptable footage, but it lacks IR sensors for face-recognition logins.
MSI GE75 Raider
The MSI GE75 Raider is a high-end 17.3-inch gaming laptop (starting at $1,749; $2,999 as tested). This model improves on the previous GE73 Raider by incorporating much-increased gaming performance into a sleeker chassis. In today's AAA games, our topped-out tester's six-core processor and Nvidia GeForce RTX 2080 graphics card easily push triple-digit frames-per-second (fps).
This MSI is great for esports titles and other fast-action games because of its 1080p/144Hz display. The performance is excellent, but the annoying fan noise, absence of Nvidia G-Sync compatibility, and short battery life detract from its appeal.
Indeed, with a slimmer and lighter design, a much superior battery, and nearly comparable gaming performance, MSI's own GS75 Stealth remains our top selection for a premium 17.3-inch gamer.
The appearance appears to be a happy compromise between too much and too little, with a side of contentious design features thankfully absent. It's not as eye-catching as the bold Alienware Area-51m or some of Acer's Predator-branded gaming laptops.
MSI has moved away from the brushed-aluminum aesthetic seen on many of its premium gaming notebooks in terms of materials. The GE75 Raider's matte-finish aluminum feels higher-quality and is easier to clean. It mainly serves as a decorative element, covering the lid backing and the top of the chassis. Despite its plastic frame, the chassis has very little lateral flex. The fit and finish are excellent, with minimum gaps between parts.
Although the tactile sensation isn't in the same league as the mechanical switches on the massive MSI GT75 Titan, its membrane keys provide nice feedback via lots of up-and-down motion. The GE75 Raider, on the other hand, has much quieter keypresses.
The GE75 Raider's keyboard layout should be suitable for gamers. The two-thirds-size number pad keys and the arrow keys not being divided into their cluster, on the other hand, may irritate Avid text editors.
The lack of a left Windows key is deceptively off-putting, as the preloaded MSI Dragon Center software allows you to exchange the left Fn (Function) key with the right Windows key functionality, or simply eliminate the Windows key. ALSO READ- Best Gaming Laptop Under $1500
Buying Guide-
Because there are so many laptops on the market, choosing the ideal one can be difficult. Before purchasing the finest Hybrid Storage laptop, it would be beneficial to consider a few points.
1. An additional drive slot
So, if you have a laptop with an extra drive slot, either HDD or SDD, you may utilize it as a Hybrid Storage laptop with ease. As I already stated, this is how it works.
This, in my opinion, is the greatest option for creating hybrid storage because it is more convenient and less expensive.
2. Performance
The second factor to consider is performance. It's pointless to have a laptop if it doesn't perform well. A high-performance laptop saves you time and never fails to deliver.
Check to see if your laptop has enough specs to fulfill your needs. A PC should have at least 4GB DDR4 RAM and an Intel Core i5 (7 Gen) or higher processor, in my opinion. A laptop like this provides a smooth and maximum performance.
3. Convenient
A large laptop is cumbersome and difficult to transport. When opposed to bulkier laptops, a lightweight laptop usually looks more elegant and unique.
A laptop with an AMD CPU is usually larger. And an Intel-powered computer has a stylish appearance. It's based on my observations and experiences, although I could be mistaken. However, always purchase a laptop that is light and comfy.
4. Cost
Last but not least, there is the price, which is important. Cheap laptops are notorious for being slow. Mid-range laptops are usually ideal for solid work and rapid performance. However, if you have additional funds, you can purchase a high-end and premium laptop that costs more than $1500. ALSO READ- Best Laptops under $400
Conclusion-
In recent years, it has become difficult for people to spend their money and time to satisfy a need. People want to buy something dependable and long-lasting. It is a waste of effort and money if these attributes are lacking.
In a fast-paced existence, it is an additional source of stress. The purchaser thinks the same idea when purchasing a laptop. It's a good idea to consider this, and it's even more important if you're shopping for a laptop with a hybrid storage hard disk. You'll have to work harder for it. However, by selecting the 5 best laptops with hybrid storage capacity in the preceding post, we have eliminated your concerns about selecting one.
This decision is based on user comments, buyer opinions, purchasing statistics, and the computers mentioned above. If you're a student, gamer, photographer, filmmaker, office worker, businessperson, or traveler, one of these laptops with hybrid storage hard disks can be the ideal option.
Professionals are classified in the aforementioned manner based on their qualities, features, and costs. As a result, we strongly advise you to pick one of these eight laptops for heavy-duty work.
You should have a solid notion of which laptop to buy after reading this article. We've produced a list of the best laptops with hybrid hard drives that analyzes their characteristics and costs to make it easier for you. Among these top-notch PCs, you'll find some fantastic offers — simply pick your favorite!
We guarantee that it will not only benefit your professional career but also reduce your expenses and stress. It will be an excellent choice for you to achieve greater mental fulfillment. We wish you the best of luck in your future professional endeavors.
YOU MAY LIKE:-