The need for a high-quality webcam has risen dramatically in recent years. Many of us now work from home, and virtual meetings are becoming increasingly common. Even spending time with family has to be done digitally at times, thus having a good webcam is more crucial than ever.
While there are some excellent webcams available today, having an external camera can be a clumsy solution, so we've compiled a list of the finest laptops available that come with 1080p (or higher) cameras built-in, so you won't need any other accessories to look fantastic.
Despite the growing popularity of working from home, several laptop manufacturers have yet to meet the need for higher-resolution webcams. Although the laptop choices is relatively limited, there are some excellent laptops available. Let's get started on the list without further ado.
Top 5 Best Laptop for Minecraft 2022
Laptops With 1080p Webcam
1. HP Dragonfly Elite Max
The HP Elite Dragonfly Max was one of the first business laptops to be designed with remote work in mind, and it's a superb machine in every way. It has a fantastic design, performance, and display, as well as a fantastic webcam.
The HP Elite Dragonfly Max features 11th-generation Intel Core processors up to Core i7-1185G7 with vPro on the inside. This is a quad-core, eight-thread processor with a maximum boost speed of 4.8GHz with Intel Iris Xe graphics for light GPU operations.
Furthermore, you can get it with up to 32GB of RAM, ensuring excellent performance and multitasking across the board. There's storage up to a 2TB SSD, so you'll have plenty of room for your files.
If you're a business user, the HP Elite Dragonfly Max's display is likewise excellent. It has a 13.3-inch display with a 16:9 aspect ratio and Full HD (1920 x 1080) resolution, which is sufficiently sharp for a device of this size.
What makes it even more appealing is that it includes HP Sure View Reflect, a privacy filter that stops anyone in your immediate vicinity from seeing what's on your screen, as well as a maximum brightness of 1000 nits, allowing you to use it outside without issue.
Because this is a convertible laptop, the touch screen, and Wacom AES pen inputs are both supported (with the option to get a pen included).
The webcam is unquestionably one of the best features on any laptop today. It's a 5MP sensor, and while the other of the laptops on this list feature 1080p cameras, this one supports 1440p, making it ideal for video conversations. It also supports Windows Hello facial recognition, however, if you want, you can always use the fingerprint reader.
Because business laptops are supposed to suit in a formal setting, they nearly always have to appear a certain way, but the Elite Dragonfly Max manages to be muted without being uninteresting. The "sparkling black" finish appears to be regular black at first view, but closer inspection reveals some sparkles that give it some life.
This laptop is also exceptionally tiny and light, weighing only 2.49 pounds and measuring only 16mm thick. That's not terrible at all for a convertible. A plethora of connectivity choices is something you'll find on most professional laptops, and the Elite Dragonfly Max is no different.
All of your bases are covered with two Thunderbolt 4 ports, one USB Type-A (3.2 Gen 1), HDMI 2.0, and a headphone jack. You may also add cellular connectivity, whether LTE or 5G, so you can stay connected even when you're not connected to a Wi-Fi network.
Overall, the HP Elite Dragonfly Max is one of the greatest business laptops available today, and it includes a wonderful webcam that is even better than 1080p if you care about how you appear in video calls and meetings.
2. Lenovo ThinkPad X13 Gen 2
If you like AMD processors in your laptops, your options for laptops with 1080p webcams are limited, but the Lenovo ThinkPad X13 is a fantastic option. It's also one of the few business laptops with AMD Ryzen Pro processors, AMD's answer to Intel's vPro offerings.
AMD Ryzen 5000 series CPUs, up to a Ryzen 7 Pro 5850U, with 8 cores, 16 threads, and boost speeds up to 4.4GHz, power the AMD model of the Lenovo ThinkPad X13. This is a very powerful CPU, with twice as many cores and threads as Intel's competitors in the 15W range, making it ideal for multitasking.
Some ThinkPad X13 models have up to 32GB of RAM and 1TB of SSD storage, but if you want the 1080p webcam, you'll have to settle for 16GB and 512GB. That's not to suggest it's a horrible system; it's still a powerful one.
The ThinkPad X13's display is also one of its best features. Because of the increased vertical space, it has a higher 16:10 aspect ratio, which is fantastic for productivity. It may not seem like much, but it reduces the amount of scrolling required while reading and writing, which can make a significant impact.
The models with a 1080p webcam offer a Full HD+ (1920 x 1200) resolution and up to 500 nits of brightness, so using this laptop outside should be no problem. There's also built-in privacy protection to prohibit people from peeping at your screen when you're around.
The ThinkPad X13 does have a 1080p camera, as you'd think, but it depends on the configuration you choose. As previously stated, this camera is available in two configurations at the time of writing. The majority of models include 720p cameras; all you have to do is check the specifications to get the perfect one.
In addition, the 1080p models of the laptop feature Windows Hello facial recognition. A fingerprint reader is also embedded into the power button.
If you've used a ThinkPad previously, you'll recognize the design of the ThinkPad X13. From the black chassis with red accents to the slightly rounded keyboard keys and the pointing stick smack in the middle of the keyboard, everything about this laptop is vintage.
It's the same ThinkPad design as before, but with more up-to-date specs. It's not a very tiny or light laptop, weighing 2.78 pounds and measuring 18.19mm thick. It won't be difficult to transport, although there are lighter laptops available.
A big supply of ports is something Lenovo's ThinkPad laptops nearly always get right, and that's certainly the case here. Two USB Type-C (3.2 Gen 2) ports, two USB Type-A (3.2 Gen 1) connectors, HDMI 2.0, a headphone jack, and a gigabit Ethernet extension port with an adaptor are included.
There is no Thunderbolt support on this AMD-powered laptop, but there are plenty of connections for all kinds of accessories.
The ThinkPad X13 is one of the best laptops you can buy right now if you want the traditional ThinkPad design with current features like a taller screen, a 1080p webcam, and high-end performance.
Best Laptops For Programming in 2022
3. Surface Laptop Studio
For a long time, most of Microsoft's Surface products came with 1080p cameras, but until the Laptop Studio, the Surface Laptop line was an exception. Not only does this laptop have a wonderful webcam, but it also has one of the most unique form factors on the market, making it my personal favorite on this list.
But there's more to it than that. The Surface Laptop Studio is powered by Intel's H35 series CPUs, which range from a Core i7-11370H to a Core i7-11370H. These are 35W processors with four cores and eight threads, as well as Intel Iris Xe graphics with boost, speed up to 4.8GHz.
It can run faster for longer than a 15W processor because of the increased power rating, making it better suited for demanding creative activities. If that wasn't enough, the Core i7 model also comes with a GeForce RTX 3050 graphics card from NVIDIA. It also has up to 32GB of RAM and a 2TB SSD, so you'll be able to handle a wide range of jobs.
The Surface Laptop Studio's display is likewise fantastic. It's a 14.4-inch panel with a 3:2 aspect ratio, much like every other Surface. It also has a brilliant display with a resolution of 2400 x 1600 pixels and is one of the few non-gaming laptops with a 120Hz refresh rate.
It also accepts pen and touches input, as well as tactile signals, or haptic feedback, emulating the sensation of writing with a real pen on paper if you have a Surface Slim Pen 2.
The aforementioned 1080p camera, which also supports Windows Hello, is located above that display. Microsoft's tablets have even better cameras, but having a 1080p camera on a laptop is quite impressive, and you should have no trouble making calls with it.
The design of the Surface Laptop Studio is extremely distinctive. Yes, this is a convertible laptop, but it's not your average one.
The display, in addition to the hinge on the laptop's base, includes a second hinge that allows you to pull the screen closer to you or lay it flat over the keyboard base, transforming it into a tablet and a perfect canvas for drawing and sketching.
Aside from that, it has the same luxury appearance and feels as other Surface devices, and it's rather small for what it offers. It weighs 3.87 pounds (4 pounds for Core i7 models) and is 18.94mm thick. This makes it logical, given the reasonably powerful components and the additional components necessary for the display.
Surface devices aren't known for having a lot of connections, but the Surface Laptop Studio makes up for it with Thunderbolt 4 connectivity, which means you can connect just about anything to it with a Thunderbolt dock. There are only two of those connectors, as well as a Surface Connect charging port and a 3.5mm headphone jack, so there isn't much choice out of the box.
While the lack of ports may be a drawback for some, the Surface Laptop Studio as a whole is a fantastic laptop. This is one of the greatest laptops available, thanks to its adaptable form shape, strong components, and 1080p webcam.
Best Laptops For Graphic Designer in 2022
4. MacBook Pro 14-inch
The new 2021 MacBook Pro models are some of the best creator laptops out there if you care less about the bells and whistles of the form factor and more about performance. It's a powerful laptop that's also extremely efficient, making it one of the finest laptops to use when you can't find an outlet.
Because Apple now manufactures its processors, the MacBook Pro's internals is unlike anything else on the market. The Apple M1 Pro and M1 Max use ARM technology and contain up to 10 CPU cores (eight high-performance cores and two efficiency cores), making them among the fastest PCs available.
The M1 Max can also have up to 32 GPU cores, providing performance that is approximately identical to an NVIDIA GeForce RTX 3080 (laptop) at 100W of electricity. That's a huge amount of power, but the efficiency makes it even better.
Apple's CPUs reach this level of performance while using significantly less power than their competitors, so you can enjoy the same level of performance without plugging into an outlet or draining your battery in under two hours. If you work on the go, that's truly game-changing.
Aside from that, the laptop may be customized with up to 64GB of unified memory (shared by the CPU and GPU for equal access) and 8TB of SSD storage. Although these setups are pricey, it's nice to have the option.
The display of the MacBook Pro 2021 is likewise outstanding. Apple was one of the first laptops to employ a mini-LED panel in a laptop, with 10,000 small LEDs under the screen allowing for local dimming.
This results in a high contrast ratio, pure blacks, and a maximum brightness of 1,600 nits, or 1,000 nits of sustained full-screen brightness. It's also a razor-sharp display, with a 3024 x 1964 resolution and a slightly taller than 16:10 aspect ratio on the 14-inch variant.
The fact that it has a notch at the top, similar to the iPhone, is arguably its biggest flaw. At the very least, the notch allows room for a terrific 1080p camera that uses Apple's image signal processor to deliver excellent video quality.
However, unlike the iPhone, there is no Face ID here; instead, you must use the Touch ID embedded into the power button.
The MacBook Pro's design is fairly similar to what you'd expect from a MacBook. It's available in two colors: silver and space grey, and the design isn't particularly unique.
With a weight of 3.5 pounds, the MacBook Pro 14-inch is likewise a heavy laptop for its size. Although it is rather thin (15.5mm), it is not the most portable laptop available.
Returning to the pros, the MacBook Pro 14-inch features a far better port configuration than its predecessors. Despite not having Intel processors, it now has three Thunderbolt 4 ports, HDMI, a full-size SD card reader, and a headphone connection with better compatibility for high-impedance headphones.
In addition, it reintroduced MagSafe with support for high-speed charging. If you've been using Windows laptops, the lack of USB Type-A ports may be a disappointment, but given that MacBooks haven't had them in years, it's simpler to accept.
The value of the MacBook Pro 14-inch is dependent on how much performance you require from your laptop. It isn't a cheap laptop, but it is exceptionally quick and efficient, has a great screen, and is one of the best 1080p cameras available. The model below features an M1 Pro CPU, however, Adorama sells the M1 Max type.
5. HP Spectre x360 16
Despite how wonderful HP's Spectre laptops are, one of their major problems in recent models has been the webcams. That is, until the SPectre x360 16 arrived, along with a larger screen, a superb webcam, and powerful specs.
To begin with, the Spectre x360 16 uses 35W Intel processors rather than the 15W models used in the smaller Spectre laptops. You can buy a Core i7-11390H processor with four cores, eight threads, and peak speeds up to 5GHz, as well as integrated Iris Xe graphics.
That's plenty quick, but if you need more power for gaming or video editing, the Spectre x360 16 has NVIDIA GeForce RTX 3050 graphics as an option. Aside from that, it has up to 32GB of RAM and a 2TB SSD for storage, so you'll never be short on power or storage capacity.
The display, which is a 16-inch panel with a 16:10 aspect ratio, is one of the Spectre x360 16's most impressive features. This is a remarkably sharp screen, even in the base model, with an extraordinary resolution of 3072 x 1920.
However, if you want an even better display, you can upgrade to an Ultra HD+ (3840 x 2400) OLED panel. That's one of the largest OLED panels in a laptop right now, which is fantastic. Naturally, because this is a convertible, it accepts both touch and pen input.
The webcam above that display is also remarkable. The Spectre x360 16 goes all out with a 5MP "GlamCam" camera, while the other Spectre models make do with a modest 720p camera.
The camera has smart features like attractiveness enhancements, light corrections, and the ability to track you and keep you in the frame as you walk around, in addition to high-resolution video. It may be one of the greatest 1080p webcams available on any laptop.
In comparison to its siblings, the 16-inch Spectre has a distinct design. It still has a dual-tone appearance, but the chassis has more softened edges, making it more comfortable to grasp and carry in your hands. The accent color is also less prominent than on the smaller models, making it appear more subdued, especially on the Nocturne Blue model.
The Spectre x360 16 isn't unduly heavy for a 16-inch convertible with some powerful specifications within, but the 4.45lb starting weight isn't exactly light either. It also has a thickness of 19.81mm.
The Spectre x360 16 also comes with a good number of ports. It has two Thunderbolt 4 connections, one USB Type-A (3.2 Gen 2) port, HDMI 2.0b, a headphone jack, and a microSD card reader, thus it covers most of the essentials. There's not much else to say about it other than it's a solid, adaptable setup.
The Spectre x360 16 is a fantastic convertible with few issues to speak about, except for its weight. While the beginning price is a little steep, it's worth remembering that the base model already comes with a Core i7 processor, 16GB of RAM, and a 512GB SSD. That's not terrible at all for approximately $1,600.
How To Choose Best Gaming Laptop
6. Surface Pro 8
The Surface line has always boasted some of the best 1080p webcams in a laptop, and the Surface Pro 8 is no exception. That isn't the only feature that makes this a fantastic smartphone. The Surface Pro 8 performs similarly to a standard ultrabook, with 11th-generation processors up to a Core i7-1185G7.
It contains four cores and eight threads, a clock speed of up to 4.8GHz, and Intel's Iris Xe graphics for light GPU applications. You can also get it with up to 32GB of RAM and a 1TB SSD, which is a lot of storage for a tablet this compact. It has the same processing capability as a conventional laptop, so you're not missing out on anything.
One of the Surface Pro 8's best features is its display. It's a 13-inch panel with a 3:2 aspect ratio, as is customary. The display features a higher resolution, 2880 x 1920, than its predecessor due to its larger size, but the same pixel density.
The addition of a 120Hz display (set to 60Hz by default), as well as Dolby Vision, is a feature that you wouldn't ordinarily find on a non-gaming laptop. The display supports touch and the Surface Pen, and if you use the Surface Slim Pen 2, you'll get tactile signal support as well, exactly as the Surface Laptop Studio.
Above the display, there's a 5MP camera with 1080p video capabilities, which we've seen in the Surface Pro range for a time. Naturally, Windows Hello facial recognition is included. Because it's a tablet, the Surface Pro 8 has a second camera, which is now a 10MP sensor with 4K video capabilities.
The Surface Pro 8 differs from its predecessors in terms of design, with a bigger screen resulting in lower bezels and rounded corners making it more comfortable to handle. It's also heavier, at 1.9 pounds, because it's now made of aluminum rather than magnesium.
Despite this, it's one of the lightest devices on the list, and its 9.3mm thickness also makes it one of the thinnest. That's without the keyboard, which is available separately, but it makes little difference.
The port selection is limited, as is typical of Surface devices. There are two Thunderbolt 4 connections here, so you can connect pretty much anything, but there's only a Surface Connect port and a 3.5mm headphone jack.
However, you'll see this in thin laptops all the time, so it's not as bad as the Surface Laptop Studio. The Surface Pro 8 is one of the finest options if you want the capability of a laptop in a more compact device with a 1080p camera. It's also highly portable, so you can take it with you everywhere you go.
Are Gaming Laptops Worth It ? [Or a Waste of Money?]
7. Razer Blade 15 Advanced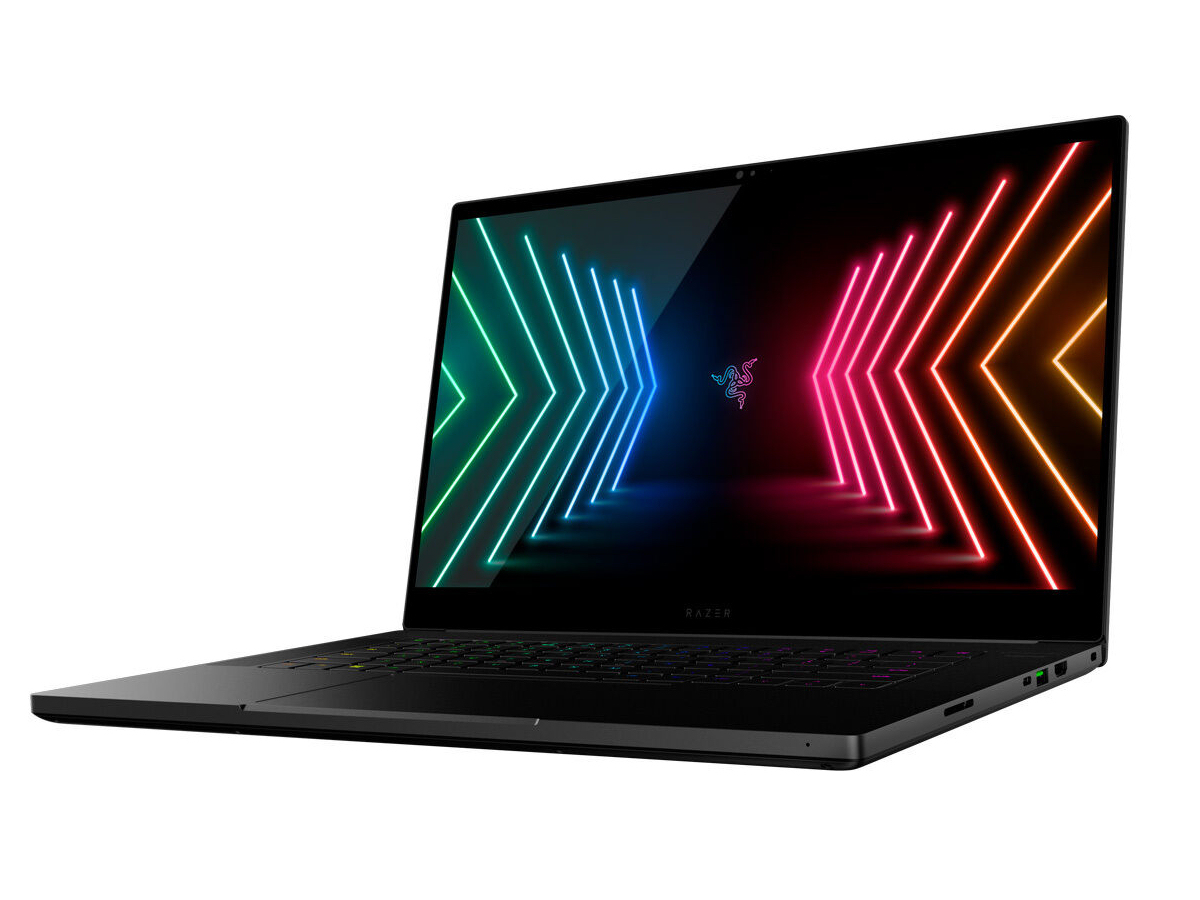 If you don't want to spend the money on one of the best webcams, a 1080p webcam can be used for streaming as well as video meetings and calls. Why not acquire a laptop that can do everything if you're broadcasting your gaming sessions?
The Razer Blade 15 has a 45W Intel Core i7-11800H processor with 8 cores, 16 threads, and boost rates up to 4.6GHz, making it one of the most powerful laptops on this list.
Furthermore, this laptop may be equipped with an NVIDIA GeForce RTX 3080 laptop GPU with 8GB of RAM and 105W of power, ensuring that all of your games will run smoothly and that you will be able to stream them without difficulty.
You'll also get up to 16GB of RAM (though you can extend it later) and a 1TB SSD, as well as an additional M.2 port for storage expansion.
The Razer Blade 15 has a couple of different display options, but the form factor is always the same: a 15.6-inch panel with a 16:9 aspect ratio.
You can then select a Full HD display with a refresh rate of 360Hz, a Quad HD display with a refresh rate of 240Hz or 165Hz, or a 4K OLED display with a refresh rate of 60Hz. Depending on your demands, all of these are excellent choices, but I think the Quad HD panels hit the best mix of smoothness and visual quality.
Webcams are sometimes disregarded in gaming laptops, but the Razer Blade 15 has a 1080p camera mounted above the display, so you'll be fine.
Not only that but Windows Hello facial recognition is also supported, which is something that is sometimes overlooked on gaming laptops. It's fantastic to see Razer paying attention to these aspects.
Gaming laptops can have gaudy looks, but the Razer Blade is understated enough to use in public. Apart from the green Razer emblem on the lid, it's an all-black laptop that looks fantastic. The keyboard has the only RGB lighting, but it only shines through the labels, so it's quite faint, and you can just turn the light to white for a completely clean look.
The Razer Blade 15 is 4.4 pounds in weight, which isn't bad considering the internal specifications. It's also only 17mm thick, which is a remarkable achievement.
Another of the Blade 15 Advanced's advantages is its connectivity. Two Thunderbolt ports, three USB Type-A (3.2 Gen 2) connections, HDMI 2.1, a headphone jack, and a full-size SD card reader are among the features. There isn't much more you can ask for in this situation.
The Razer Blade 15 is a strong laptop that doesn't skimp on features like the 1080p webcam or the design, which is something that other gaming laptops frequently do.
8. Surface Go 3
Finally, the Surface Go 3 (even if it's technically a tablet) is your best bet if you want a budget laptop with a 1080p webcam. Webcams are typically one of the first features to be sacrificed on low-cost devices, but the Surface Go 3 offers cameras that are nearly as good as those found on premium Surface tablets.
The performance of the Surface Go 3 is where it falls short of competing for inexpensive laptops. It has up to an Intel Core i3-10100Y processor, which is a dual-core, four-thread processor with a 3.9GHz boost speed.
Instead, the base model comes with an Intel Pentium Gold 6500Y processor that works at up to 3.4GHz. Because both processors are low-power, performance should be adequate, but it will lag behind the premium laptops on this list.
If you can afford it, it also comes with up to 8GB of RAM and a 128GB SSD, which is the option we recommend. The cheapest model comes with 4GB of RAM and 64GB of eMMC storage, which isn't ideal for gaming.
The Surface Go 3's display, on the other hand, is excellent for a Windows PC in this price range. It has a 10.5-inch display with the same 3:2 aspect ratio as the more expensive Surface devices, making it one of the few affordable laptops without a 16:9 display.
It also has a Full HD+ (1920 x 1280) display, which is quite sharp for its size and far superior to most other laptops at this price. Because this is a tablet, support for touch and the Surface Pen is expected.
The webcam, as previously stated, was not sacrificed on the Surface Go 3. The Surface Go 3 includes a 5MP/1080p webcam, which you won't find on any other laptop at this price, and it also supports Windows Hello facial recognition, just like the Surface Pro 8. Another camera, this time an 8MP sensor that can also shoot 1080p video, is located on the back.
The design of the Surface Go 3 is similar to that of previous Surface tablets (before the Pro 8). It's a thin, light magnesium tablet with flat sides that magnetically attaches the Surface Pen to the side.
The Surface Go 3 weighs about 1.2 pounds and is 8.3mm thick, making it extremely portable. Of course, a keyboard is available separately, but it doesn't change the fact that this is one of the most portable laptops available.
Finally, as is typical of Surface devices, the Surface Go 3 features a restricted number of ports. One USB Type-C port, a Surface Connect charging port (with optional docking), a 3,5mm headphone jack, and a microSD card reader is included.
There's also no Thunderbolt support, which is to be expected from a budget laptop. While this isn't a bad arrangement for a tablet, it's not great for a Windows PC, so you'll probably need some adapters if you want to connect wired peripherals.
Despite this, the Surface Go 3 is a fantastic bargain laptop, and you won't find another laptop with a 1080p webcam for less money. However, bear in mind that the keyboard is available separately, so you'll have to add that expense if you want to have a real laptop experience.