Second Life is a popular online virtual world created and controlled by the San Francisco-based company Linden Lab. Do you know that Second Life has over one million active users every month, demonstrating its popularity?
Some users refer to it as a videogame or an MMO (massively multiplayer online role-playing game), but the Linden Lab says it's simply a virtual environment with no pre-made conflicts or objectives. If you're looking for the best laptops for Second Life, it's likely that you're just getting started or have had a bad time with your old computer. Don't worry, I've found several amazing laptops for you that will provide you with a terrific gaming experience without breaking the bank.
The users, or "residents," can create material in Second Life, which is the true beauty of this virtual environment. As a resident, you have complete freedom to interact with others, arrange objects, and construct whatever you want. In this universe, there is even a virtual currency with which you may trade virtual property and services or even convert it for real-world currency.
Before I go any further, there are a few things you should know about the Second Life Viewer that you should consider before purchasing a laptop.
Second Life is incompatible with a variety of graphics cards, including:
1. NVIDIA TNT or TNT2 cards that report to RIVA
2. ATI cards with the model codes RAGE, RAGE PRO, RADEON 320M, 340M, 345M, or similar.
3. Intel chipsets with a lower number than 945, such as Intel Extreme.
4. Branded cards such as 3DFX, RIVA, TNT, SiS, S3, S3TC, Savage, Twister, Rage, Kyro, MILLENNIA, MATROX
Dial-up internet, satellite internet, and some wireless internet services are not compatible with Second Life.
As you can see, if you buy a laptop based solely on its attractive design or high specifications, it may not perform as intended. Many folks I've seen propose a powerful or incompatible laptop, even though they may have never set foot in this environment.
1. Acer Nitro 5
An old coworker once described the Acer Nitro series as a gaming laptop that hides its processing power well. The Acer Nitro 5's secret trick is to conceal a powerful mid-range gaming laptop inside a sweater vest-like PC gaming case.
Another Ryzen 7 5800H and RTX 3070 combo we've seen a lot of recently is the Acer Nitro 5 AN515-45-R7S0. For many gaming laptop OEMs, this has been a popular combo, similar to a nice cheese and wine. By cranking out outstanding frame rates at 1080p, the Nitro 5 highlights everything we enjoy about AMD's 5000 series CPU and Nvidia's RTX 3070 (Max Q).
The inclusion of a 1TB NVMe PCIe SSD is a welcome addition that should be standard in any serious gaming laptop these days, given the benefits of such drives. It's awful to see gaming laptops with only 512GB SSDs.
You have speed, but with just a few major games, your storage will quickly fill up, and you'll be looking for a deal on a larger SSD in a matter of weeks. If you want to go with a more cost-effective SSD/HDD combo, the Nitro 5 offers a 2.5 drive bay.
The Acer Nitro 5's design is straightforward, which is ideal if you want to avoid Acer's premium Predator series' 'gamer' style.
The laptop's design is rather simple, even with the muted scarlet trim covering the back vent. It might easily be confused with other plain ol' laptops. On virtually the same chassis as the Nitro 5, the Predators managed to preserve a bit of their flair.
When playing shooters like Call of Duty Warzone, the Nitro 5 has a quick 165Hz, 1440p display that looks amazing in motion. I even tried out the new Doom Eternal DLC, and it was refreshing to see that the only tearing onscreen was Doomguy ripping some unfortunate demon in half.
The screen itself did not appear to be as bright as the promised 300 nits. It became clearer as I was seeking parts for my awesome hoverbike while playing the demo of the brilliantly colorful Sable, where I was constantly trying to make the screen brighter to no avail. The color was great but not as vibrant as I had wanted.
We're getting a sense of how well some of these AMD Ryzen 5000 series-powered RTX 3070 gaming laptops stack up against each other now that we've played with a handful of them, especially in the $1,500—1800 price range. As you can see from our benchmarks, the combo is delivering excellent results.
On CPU and GPU performance, the Nitro 5 is tied with the Asus TUF Gaming A15 laptop, which is likely its closest competition among the laptops we've tested. When you put them side by side, they almost seem the same. Both deliver excellent 1080p performance, while the Nitro 5 kept a much cooler temperature throughout heavy gaming, which is always a plus. The Nitro 5 has a good dollar-per-frame value all over.
2. Dell G5587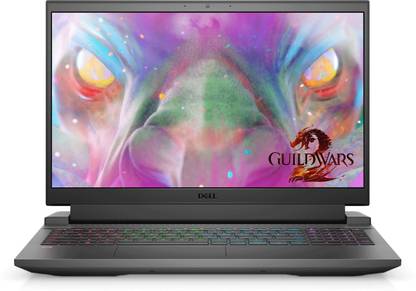 If you don't want to spend a lot of money on an Intel Core i7 gaming laptop, the Dell G5587 could be a good option. Among gamers, it's one of the most popular Intel Core i5 laptops.
With an NVIDIA GeForce GTX 1050TI, Intel Core i7-8750H, and 16GB of RAM, the Dell G5587 much exceeds the recommended specifications for running Roblox on high settings. Its processor outperforms the Dell Inspiron 15 5000 Gaming Laptop's Intel Core i5.
It even puts you in line to play the more graphically demanding game modes, such as FPS or horde mode servers. It also makes other games, such as World of Warcraft, more accessible. And for a long time! The Dell G5587 may last up to 6 hours on a single charge.
The finish is brushed metal with an exterior magnesium alloy bracing for added durability. The Dell G5587 can take a battering. To safeguard the 1TB hard disk and 128GB SSD, it must be strong (for boot up). Both may be upgraded, as well as the RAM, which can be increased from 4 to 8GB.
Three USB 3.1 Gen 1 ports, a single Type-A, Thunderbolt 3, a single HDMI 2.0, an audio jack, an SD card reader, and a Noble lock slot are available.
Given the specs of these Dell gaming laptops, you're way ahead of the requirements for running Roblox and doing so well—especially in the more graphically taxing game modes. If Roblox is the only game you or your child plays, it runs so smoothly that it's far more than you'll ever need.
The display quality is nothing special; it's a standard full HD 15.6-inch panel that's more than adequate for gaming. Furthermore, when compared to competitors, the thick bezel may appear unsightly.
The Dell G5587 G5 is a heavier and thicker laptop, but if you need liquid-like performance, it's a good choice.
The build quality is excellent, and the dual-fan cooling system is very effective. There are a variety of connectivity choices, including the latest Thunderbolt 3, LAN, and HDMI ports.
If your primary purpose is to play Roblox, you'll save money by purchasing the Lenovo L340 i5. The Asus ROG Zephyrus S Ultra Slim is the way to go if you want additional gaming alternatives.
The Dell G5587 is another example of a laptop with far more power than it requires to run Roblox, which isn't always a bad thing—but it can be costly. With an NVIDIA GeForce GTX 1050Ti, 16GB of RAM, and an Intel Core i7, you can play a wide range of games. With the exception of the lower battery life and heavy build, Dell is one of the most reliable and economical gaming laptops, capable of handling mild to moderate games with ease.
3. Acer Predator Helios 300
With its all-black chassis, slanted lid corners, fierce rear cooling vents, and turquoise-backlit Predator emblem on the lid, the Predator Helios 300 is a gaming laptop.
Alienware's m15 R4 cannot make the argument that the design is more mainstream than radical. It wasn't always one that the Helios 300 could make, either; with this revision, which launched in 2020, Acer toned down the Predator logo. (For context, see the 2019 Helios 300 model.) For a more mature vibe and a step toward broader appeal, the Predator writing now only displays beneath the screen.
In comparison, Acer's $1,349 entry-level model (PH315-53-70QE) outperforms the primarily plastic computers in that price range, such as MSI's GF65 Thin and Dell's G5 15 SE. A six-core Intel Core i7-10750H processor, the 6GB GeForce RTX 3060, a 144Hz 1080p display, 16GB of RAM, a 1TB solid-state drive, and Windows 10 Home are all included for that price. ALSO READ- Best Laptops for Investment Bankers
Esports games, which are typically less graphically resource-intensive, are some of the only games in which the Helios 300 can achieve triple-digit frame rates, therefore the 144Hz refresh rate on the base model is more than acceptable.
However, I can only speak to the 240Hz screen's quality, and there aren't many complaints. Its beautiful images are made possible by its adequate brightness, wide viewing angles, anti-glare surface, and rated 100% coverage of the sRGB color space.
Though it lacks the per-key backlighting customization seen on the more expensive Omen 15 and Alienware m15, its four zones, and infinite colors should suffice for most buyers. The software allows you to save profiles, which is quite useful.
Moving down, the 15.6-inch screen is well-suited to the buttonless touchpad. It is simple to use because of its flat surface. Accidental presses are protected by a slightly stiff tactile clicking motion. (Those who use an external mouse can disable the touchpad by pressing Fn+F7.)
There are no biometric features in the Predator Helios 300, such as a fingerprint reader or a webcam for face recognition. The 720p webcam above the display has good video quality for a gaming laptop, but no privacy shutter.
While gaming, the Acer has good-sounding speakers with enough volume to be heard over the cooling fan. Even during long gaming sessions, the two fans at the back corners of the chassis keep the Predator cold enough to touch. In most situations, the fan noise is unobtrusive, however, a quiet library would be a stretch. Acer made a fantastic job at reducing fan and motor noises overall. The PredatorSense app gives you some control over your fans' actions.
4. MSI GS65 Stealth
The MSI GS65 Stealth Thin Gaming Laptops are powerful laptops that are not only the best gaming laptops for Fortnite but also for whatever game you choose to play. You may use it for work in the morning and gaming in the evening because it has good gaming and working performance. Or anytime you have some free time.
The Nvidia GeForce GTX 1070 Max Q GPU, an Intel Core i7 processor, 16GB of RAM, and a 512GB NVMe SSD are all included in the MSI GS65 Stealth Thin Review.
The graphics card is capable of delivering top-notch gaming performance without causing frame rate drops, while the CPU and RAM can handle a wide range of tasks without slowing down.
Due to the overactive GPU, gaming laptops' battery life is typically subpar. The MSI GS65 Stealth Thin, however, is not one of them. ALSO READ- Best Gaming Laptops under $1000
With a battery life of five hours and 40 minutes, the laptop easily outperforms the industry benchmark of four hours for gaming laptops. It outperforms laptops that are nearly entirely dedicated to gaming, such as the Alienware New M15.
Despite its small size, the GS65 Stealth Thin has a lot of ports. A USB 3.1 Type-A port, a Thunderbolt 3 port, a Mini DisplayPort, and HDMI, as well as the power jack, is located on the right side. A pair of USB 3.1 Type-A ports, a Gigabit Ethernet port, a secure lock slot, a microphone jack, and a high-res audio S/PDIF jack are located on the left. Another computer that is port-friendly is the Acer Predator Triton 500 RTX 2060.
The MSI GS65 Stealth Thin is one of the thinnest and lightest gaming laptops on the market, weighing barely four pounds.
Despite its modest travel, the keyboard is easy to use because of the springy keys, which should allow you to reach your maximum typing speed. When gaming, though, the laptop can get pretty hot, so keep it in a well-ventilated area and away from your lap.
Despite being bottom-mounted, the MSI GS65 Stealth Thin's speakers are above average and produce an outstanding combination of bass, mids, and highs. They're also incredibly loud and can easily fill a space with their sound.
The display is normal 1080P, but it also has a 144Hz refresh rate, which significantly reduces screen tearing and latency. While the webcam positioning on top of the bezel is fine, considering the price of the laptop, they should have offered something higher than 720P.
5. Asus VivoBook S15
The Asus VivoBook S15 laptop (S533) was destined to be a success, as it offers all you need and more, just like the previous generations. This is one of the greatest laptops on the market right now.
This business PC features a wide 15.6-inch screen and a separate number pad, as well as long battery life and quick speeds. Not to add that this is one of the lightest laptops available; you won't have any trouble carrying it around.
The Asus VivoBook S15 checks a lot of boxes when it comes to what you want from a laptop.
And, of course, Windows 10 is Windows 10 — Microsoft's desktop operating system keeps improving, with stronger integration with smartphones (especially Android devices) and a redesigned, Chromium-based browser in the form of Microsoft Edge.
The Asus VivoBook S15's 15.6-inch, 1920 x 1080 resolution display is both pleasing to the eye and to work with: the bezels around the edges are pleasantly thin, and the display itself is bright, colorful, and sharp. Although the 16:9 aspect ratio isn't our favorite (we prefer the 16:10), it is ideal for widescreen movies and television programming.
The laptop makes good use of its quality materials elsewhere, with a roomy keyboard that feels well-padded and looks well illuminated (the different color around the Enter key is a pleasant touch), and a quick and accurate touchpad.
A fingerprint sensor is embedded into the trackpad, making logging into Windows 10 a breeze. The all-metal chassis looks the part and has the appearance of lasting a long time.
One of the benefits of a notebook this size over a 13-inch laptop is that you get more ports: the Asus VivoBook S15 has an HDMI port, a Thunderbolt 4 USB-C connector, a USB 3.2 USB-A port, and two USB 2.0 USB-A ports, as well as a headphone jack and a microSD card reader.
Buying Guide–
In this section, we'll go through the second life recommended and required specs for a laptop that will allow you to play the game smoothly. Let's get right to the specifications without wasting any time:
1. Operating system:
Download Windows 10 to run Second Life, which is the most recent operating system and will operate best with the game's needs. Otherwise, you can get a laptop that runs Windows 7, 8.1, or the most recent version of Apple macOS.
2. Processor:
Before purchasing any laptop, you should be aware of ways to make Second Life run quicker. First and foremost, you need to get a laptop with a 2GHz processor, according to official Second Life specifications. This is the bare minimum required for making the game run faster.
The processing capabilities are represented by the frequency rate. The higher the speed, the greater the processor's capability, and thus the potential to run the game faster.
Second, get a laptop with more cores, and third, choose the "U" option over the "H" option if you want to keep your battery backup safe. As a result, we recommend purchasing a laptop with at least an Intel Core i5 quad-core processor.
3. Memory:
When deciding which laptop is best for gaming, the amount of memory on the laptop does not matter as much. For a smooth gaming experience, we recommend purchasing a laptop with at least 8 GB RAM; however, 4 GB RAM will suffice to operate the Second Life game.
4. Graphics processing unit:
A dedicated GPU is an important characteristic for a gaming laptop, according to second-life hyper graphics standards. If you don't have a dedicated graphics card, your system will lag when playing Second Life. So, if you want to have a great gaming experience, get a laptop with dedicated graphics. Although an integrated graphics card will function with the second life game, we recommend purchasing the best laptop with dedicated graphics from our list of recommendations. They're all equipped with a dedicated NVIDIA GTX RTX MX250 graphics card.
Other important things to consider include long battery life, many communication ports, and a great display quality.
Conclusion-
We have compiled a list of the finest laptops for a second life using our best knowledge and research.
The MSI Stealth is our top pick in our list of the best laptops with dedicated graphics, which is one of the most important characteristics for smooth gaming.
If you're looking for a budget laptop for a second life, the HP Pavilion is the cheapest laptop with a dedicated graphics card, so that's your best bet. Aside from that, if you have any questions, you can post them in the comments area.
YOU MAY LIKE-